ALASKA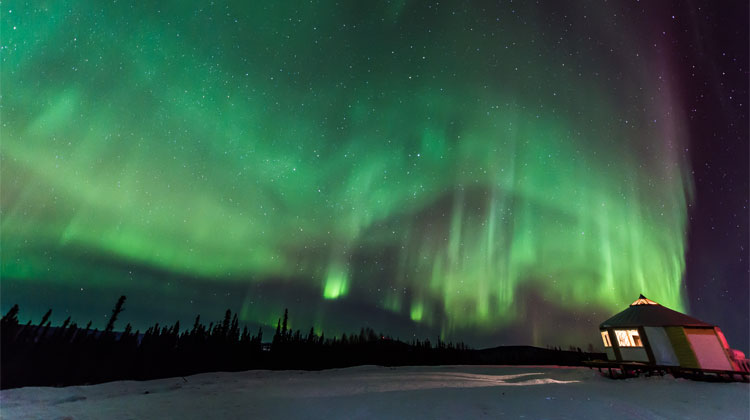 The best place in the world to view the Aurora Borealis is directly underneath the the Aurora Oval, where the northern lights originate, which is from Fairbanks, Alaska and north into the arctic circle. These can be viewed all year round, but the best time is from August 21 through to April 21. Alaska has the clearest skies, due to it's low precipitation, which makes it's geography an arctic desert. This in turn makes the viewing of the lights clearer. An option for those wanting the best odds for seeing the northern lights is an Arctic Circle Overnight Adventure, staying overnight at Coldfoot which is located under the Aurora Oval. So what are you waiting for, if viewing the lights is on your bucket list? 
Experience Alaska 3 ways!  
Alaska is a destination which conjures up images of bears, breaching whales, majestic mountains, untouched wilderness, and remote towns. The destination is diverse, vast and highly desirable, with some of the most highly awarded travel experiences around like  the  fabled Inside Passage and the Alaskan Interior. Where a MasterChef can serve up a great ingredient three ways, similarly Alaska can be experienced three ways!
Cruising is the best way to access the Inside Passage - from small expedition boats, to small luxury ships, to big ship experiences. The main stream big ship cruise lines start in either Vancouver or Seattle, and these itineraries are based around daily visits to Alaskan towns like Ketchikan, Juneau and Skagway. They offer a large range of optional shore excursions from these towns which are an additional cost to the cruise fare. The small ship cruise lines are more inclusive, and provide a close up view and connection with the wilderness accessing small bays and areas that the big ships cannot go to. Some operate ex Juneau or Sitka, and there is very real opportunity to see wildlife, marine and birdlife in their natural environment. Whilst the big ships must stay with strict timings around port scheduling, the expedition and smaller ships can have more flexibility to respond to wildlife sightings as they happen.
Princess Cruises, Holland America and Celebrity Cruises in the large ship category offer similar 7 night itineraries and onboard experiences. UnCruise is a small ship expedition company with boats, primarily cruising the wilderness regions from Juneau. Seabourn is in the ultra-luxury small ship category, carries up to 450 guests and offers unique itineraries that are a bit longer with a mix of port and expedition experiences. Seabourn visits key towns, as well as using zodiacs/catamarans and kayaks to bring an expedition/adventure element when they are in the remote areas. They combine this with exclusive delights such as "Caviar on the Deck" parties against the backdrop of the Misty Fjords for those "pinch-me" travel moments!.
To see other parts of Alaska, combine a cruise with some land arrangements. Anchorage and Fairbanks are fascinating towns steeped in gold rush and Alaskan history, and are gateways to the Alaskan Interior of Denali National Park. There are various options to travel independently by self-drive rental car, or campervan, but road access may be restricted the early and later part of the season.
Alternatively you could take to the 470 miles of track that make up the Alaska Railroad! The iconic Denali Star Train is a favourite for NZers where you can ride the rails from Anchorage - Talkeetna – Denali – Fairbanks or v.v. There are two classes of service, including the popular Gold Star Dome service which has train cars with full length upper level dome with 360 degree views, and an outdoor viewing platform.
Denali National Park is the star attraction of the region. At over six million acres, the Park is home to Dall sheep, grizzly bear, caribou, moose and the tallest mountain in North America - Mt. Denali.  Due to the distances involved, most passengers spend a night or two in Denali Park, or Talkeetna. If you venture further north to Fairbanks, we recommend doing a one way journey rather than the lengthy round trip. There are also bus and train combinations that might suit for other options around dates and time schedules. With limited accommodation in the region, and around 400,000 visitors every year, we recommend booking early for independent arrangements.
The third way to explore Alaska is with the convenience, and comfort of a guided tour and  Tauck's  World Discovery Earth Journeys "Wild Alaska" is pretty exceptional. Created by Tauck and BBC Earth (the world renowned TV documentarists), for 9 days you will explore  away from the well-travelled routes to less-visited places of spectacular beauty, and one-of-a-kind experiences. Highlights include flightseeing over the glacier-clad peaks, cruising the Kenai Fjord known for prolific wildlife, bear-watching on Crescent Lake, making canine friendships at a kennel that raises champion sled dogs, hikes with an expert naturalist guide, and visiting a refuge for displaced and orphaned animals. Professional photographer and filmmaker equipment like camera traps, under water camera's, long range microphones are used to enhance and connect you to the environment. You will feel like you are in your own documentary, and you will stay at outstanding wilderness lodges, like Seward's Windsong Lodge, set in a wooded glacier valley beside the Resurrection River.     
It is the vastness of the Alaskan wilderness, and the wildlife, combined with Native Indian culture, gold rush history and unique communities which makes this a destination that has something for everyone.
Ask us today for a brochure or itinerary suggestion. 
Click links below to download brochures:-