Norfolk Island
Sandra Barclay-Graham visited Norfolk Island in March this year (2015) and was pleasantly surprised by this gem between New Zealand and Australia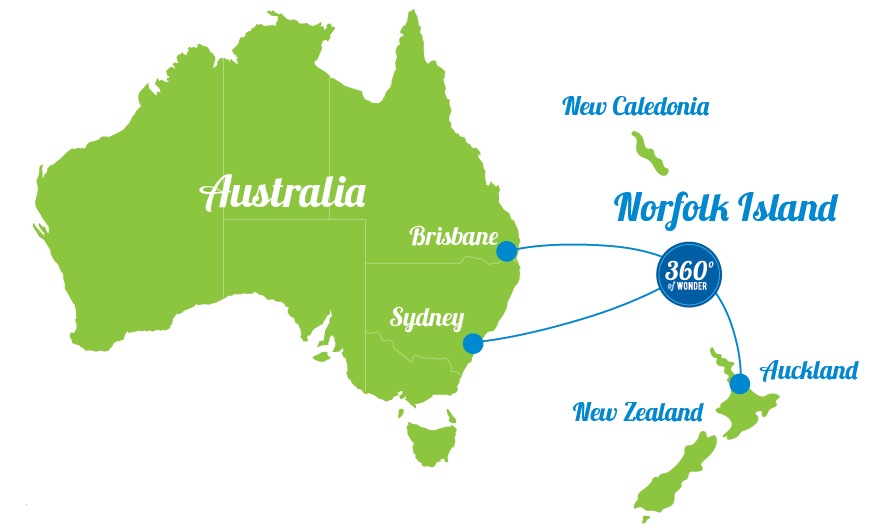 Norfolk Island  in brief:
• 8 x 5 kilometre island, self governed (9 member Legislative Assembly) external territory of Australia.
• Located in the South Pacific.
• Population 1,663 (February 2015).
• Climate: Sub Tropical.
• Official Languages: English and Norf'k.
• Accommodation range: 3.5 star to 5 star.
• AUD currency.
• Tourism website: www.norfolkisland.com.au
• Flights to Norfolk Island are international and a passport will be required for travel.
• Over 70 different experiences and tours suitable for singles, couples, adventure seekers, nature lovers, historians, fishermen, food lovers and families.
• Received World Heritage listing in August 2010: Kingston and Arthur's Vale Historic Area.
• Norfolk Island Tourism is the Territory Government agency responsible for promoting Norfolk Island; developing, attracting and promoting major sporting, cultural and business events; and developing significant tourism infrastructure and projects.
Air New Zealand fly direct to Norfolk Island from Sydney, Brisbane and Auckland. Air New Zealand can connect to any gateway in Australia or New Zealand with alliance partner Virgin Australia.
At this stage Air New Zealand only flies return to Norfolk Island on a Sunday. You can either spend the whole week on the island and really taking a vacation or you could spend 3 days on Norfolk Island and 3 days in Brisbane catching a show and shopping before heading home. How about 3 days of Golf in Norfolk Island and 3 days playing golf in the Gold Coast.  

Accommodation
There is a variety of accommodation on the island for couples and indivduals wanting to get away to relax and revive and for families who want to have fun and adventure.  Contact us so we can select something that suits your requirements.
Click for information on the Paradise Hotel & Resort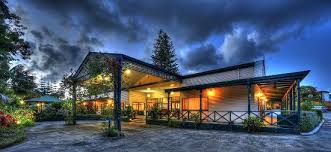 Heritage
Norfolk Island's stormy heritage, tiny size, isolation, incredible beauty and relaxed pace have together cultivated a culture like no other. Norfolk islanders are proud, sturdy, independent, warm and resourceful people who cherish the uniqueness of their origins and love to share their intriguing lifestyle with visitors. Around a third of islanders descend from the rebellious Bounty crew and their Tahitian partners. There are eight common surnames, including Quintal, McCoy and Christian. As a result, Norfolk's telephone book is the only one in the world to list by nicknames. This includes "Tarzan", "Lettuce Leaf", "Diddles", "Shagsy", "Carrots", Kik (and his son 'Kik Kik') and "Pinky".
While living on a small island like Norfolk with just 1800 residents does have its limitations, there are also many benefits. There are no rat race pressures, no traffic jams (althou gh there are sometimes two cars queued up at the island's single roundabout), no fast food outlets, nor are there any high rise buildings. There are however, bountiful supplies of kinship, warmth, camaraderie, a sense of belonging, a spirit of community, a zest to really live life to the fullest and plenty of free range scenery for children and adults to revel in. The biggest day on the locals' calendar is Bounty Day, celebrated on the 8th of June. The entire population turns out on this special public holiday, to honour the Bounty descendants who left Pitcairn Island to settle on Norfolk Island in 1856. Each Bounty Day, islanders wear traditional period dress, some even original, and join the giant family celebration - a re-enactment of the Bounty mutineers landing at Kingston Pier. Direct descendants of the mutineers march down Quality Row to the cemetery as tourists or other islanders watch from the side of the road.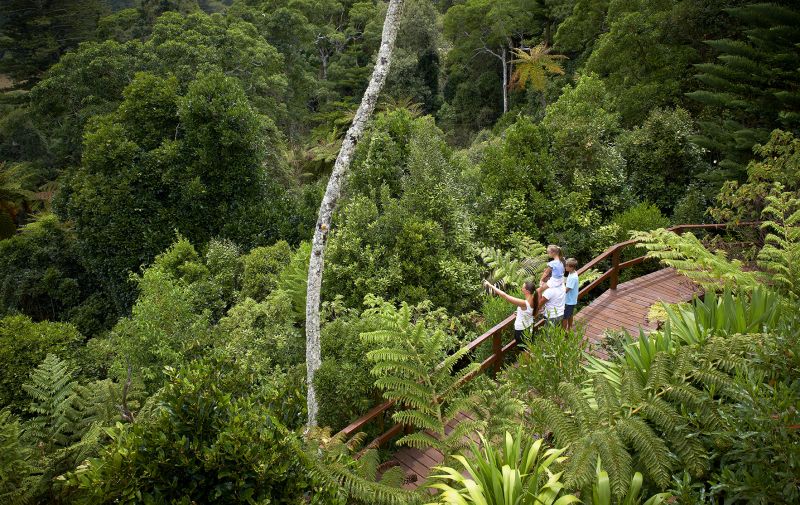 Language
Norfolk Islanders speak Norf'k, a mix of Tahitian and 18th century English. It has been recognised for its distinctiveness by the United Nations. It is featured in the 20 09 United Nations Educational, Scientific and Cultural Organisation's (UNESCO) edition of its Atlas of the World's Languages in Danger of Disappearing. As of 2005, Norfolk Island Government declared Norf'k an official language as well as English, and is now taught at school. The language originated from the Bounty mutineers who hid on remote Pitcairn Island with their Tahitian wives. Their descendants later brought the language to Norfolk Island. Among the most used words are "watawieh yorlyi" (hello, how are you?) and "kushu" (good thank-you).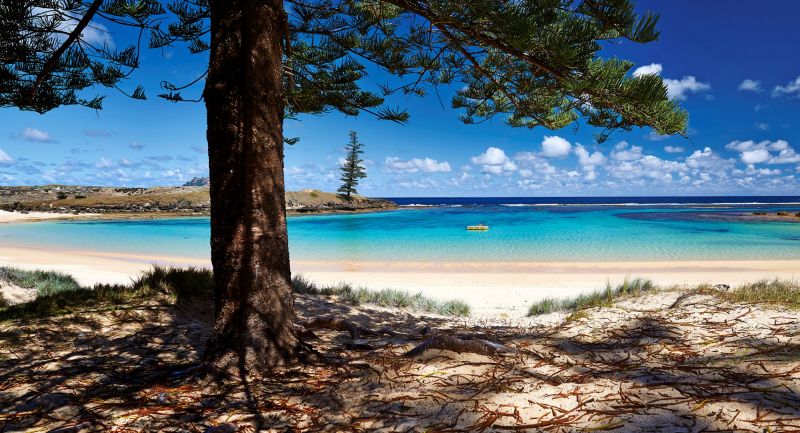 There is plenty to do on the island  in fact click here to see   101 Things To Do on Norfolk Island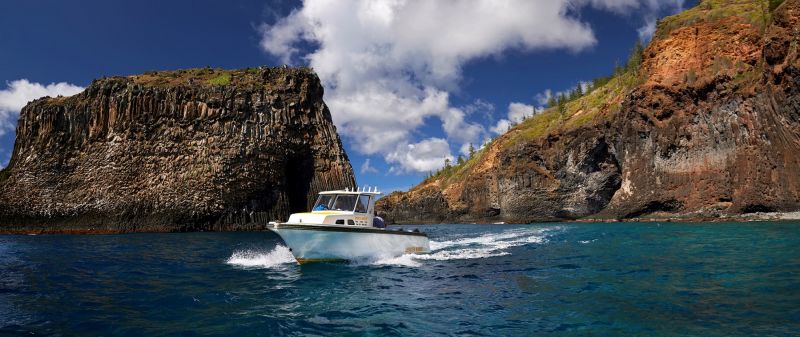 Things you might like to know
• Islanders and visitors alike exercise what is known as the "Nor folk wave" – a gentle raising of a finger or a whole hand by drivers to acknowledge other drivers.
• More than one third of islanders are descendants of the Bounty mutineers who fled to tiny and remote Pitcairn Island after the 1789 revolt – the most famous naval mutiny in modern history.
• Norfolk Island has an Australian postcode 2899, Australian currency, Australian police and other Australian connections yet boasts its own nine-member government, own customs and immigration laws, own stamps and phone cards and even its own Commonwealth and South Pacific Games teams.
• Cows, chickens and ducks have right of way on the road.
• Television was introduced on the island in 1985! Available channels now include ABC TV, SBS, Central Australia 7 plus many other free to air digital channels, plus an option to subscribe to Foxtel. The island boasts its own Radio Norfolk station, transmitting on 89.9FM & 1566AM, and even a local TV station, TVNI.
• The island's official anthem is 'God Save the Queen'. A demonstra tion of Norfolk Islanders gratitude to the British monarchy for granting their ancestors the right to settle Norfolk Island in 1856.
• Locals live a real island lifestyle, taking every Wednesday afternoon off - a long-time tradition to allow locals to play sport. They also enjoy two more public holidays than mainland Australians (10 in most States). Norfolk's special days off include Foundation Day in March, Bounty Day in June, Show Day in October and Thanksgiving Day in November.
• Norfolk Island celebrates Thanksgiving Day – a legacy started by the American whalers based here last century. The day is marked by a public holiday on the last Wednesday of November.
• Norfolk's seaside golf course is one of the world's most scenic courses (and the only UNESCO World Heritage golf course in the world) – and also one of the cheapest, play unlimited golf for a week for only $70 AUD.
• Government House is open to the public once a month. Monies raised go to local charities..
• No building on Norfolk Island is taller than the island's famous pines – in fact the law restricts all buildings to just nine metres.
• Norfolk is home to 1400 cattle and 200 sheep. Seventy locals are permitted to allow 10 heads of cattle each to graze along the island's roads.
• There are no traffic lights on Norfolk, and the island's first rou ndabout was installed in 1998.
• Contrary to what most visitors say, Norfolk Island does not have it all. It has no McDonald's restaurants, graffiti, or snakes and poisonous spiders.
• The island supports its own health care scheme, welfare system and education.
• The island's cricket pitch is the oldest in the Southern Hemisphere, with the first match played in 1838.
• The 'bird of providence' petrel was so named because it saved the island from starvation in 1790 when the supply ship Sirius sank en-route to Norfolk. More than 170,000 of the birds were collected for food that year.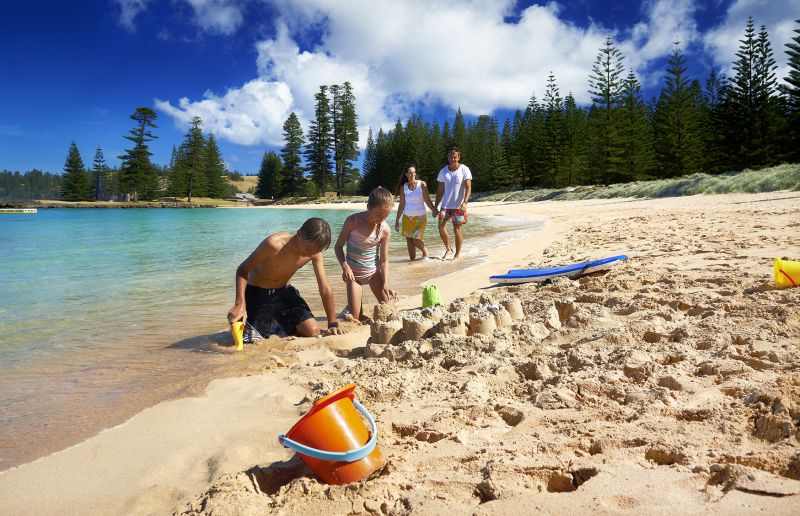 The Norfolk Wave
Travellers, especially those who plan to drive, must observe a strong Norfolk Island tradition.
You must wave to every car driver that passes you by. This is n ot a joke. (Well, it is funny, but true). Islanders will spot a tourist a mile away by how quickly you wave or whether you wave at all. Norfolk Island's resident bush poet Archie Bigg explains.
Archie's published poetry embodies the very humour and quirkiness of the warm, fun and friendly locals.
Contact us for more information and bookings.