Fly-fishing in Aitutaki  
By Mandy Brown
The fly-fishing experiences I have had on the Tongariro River in thermals and waders, is nothing like the fly-fishing experience, with the sun on my back in the warm waters of the Aitutaki Lagoon with Bonefishing E2's Way.
In a small motorboat, E2 (Itu Davey) takes us out into the lagoon where the waters are bluer than blue and crystal clear, the sand is white and the small Motus are covered with coconut trees.  We are fly-fishing  for bonefish in paradise!
E2 ,the bonefishing legend of Aitutaki, tells us bonefish are bottom feeders so he looks for the milky waters where the fish have stirred up the sand. We let our lines out as far as they can go and  strip and jerk the lines back in .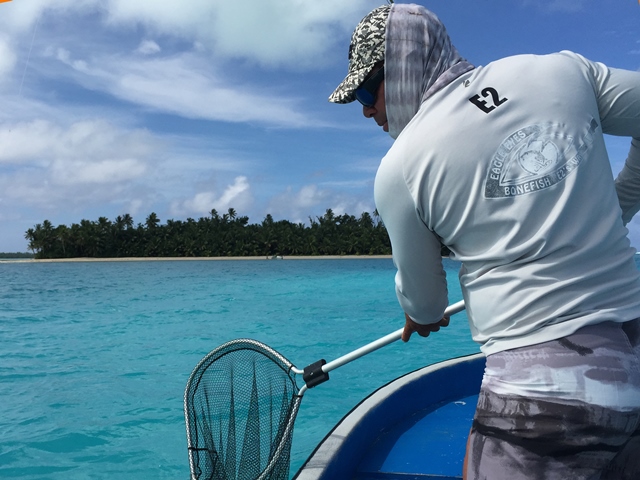 Quickly my friend's line gets a bite and the battle starts  to outsmart the bonefish by this determined fisherwoman. 
E2 is ready  and we net the fish.
The government has introduced a catch and release policy  for part of the lagoon, to ensure the sustainability of the bonefish. We take a quick photo and very gently return the silvery, ghost looking fish back into the lagoon.
Not to be out done, I get my line back into the water and concentrate, making a wish and hoping  Karma is on my side, so  I too can catch a bonefish. 
I get a definite tug on my line, but I lose it. Then, finally I get a bite  and stripping the line bring in my catch of the day, another beautiful bonefish.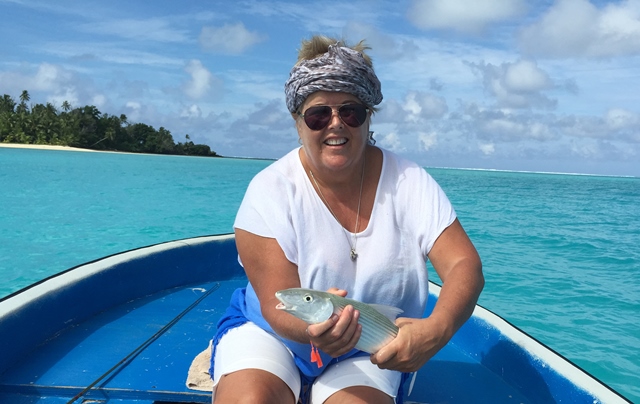 Bone-fish can also be caught in the shallows of the lagoon, but the bigger fish are further out. 
E2 tells us  bonefish are a delicacy for the elders, however he doesn't eat the fish as they are boney and there are nicer and easier fish to catch.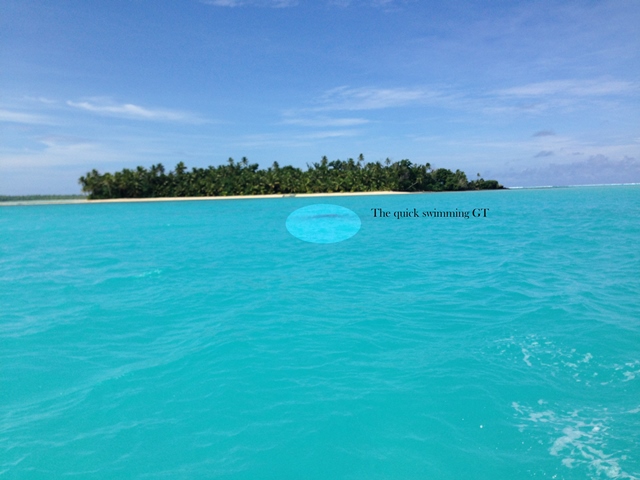 E2 also has some rods ready for GT fishing (Giant Trevally) with lures called poppers.  He shows us how to use them and we give it a go, but we only see one and don't manage to catch it.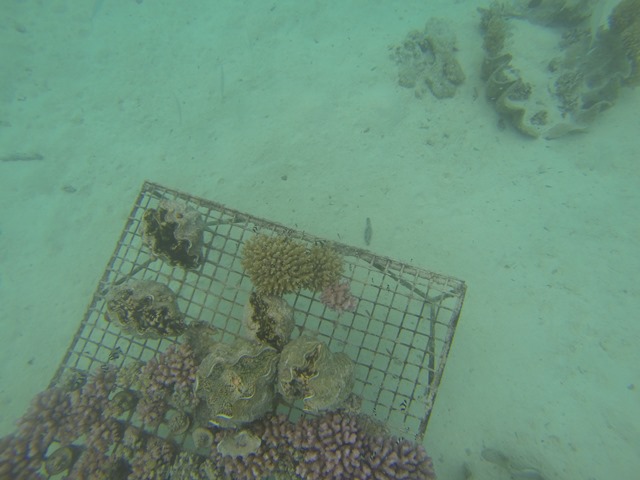 We have lunch on One Foot Island and go snorkeling to view a nursery for giant clams.  The giant clams have been eaten to near extinction, so the nursery is hoping to re-establish them in the lagoon.
Bonefishing E2's Way is a great way to spend a half or whole day fishing, with an experienced local in a unique way, on the Aitutaki Lagoon.  www.e2sway.com