Hapag Lloyd's ms Europa visits Auckland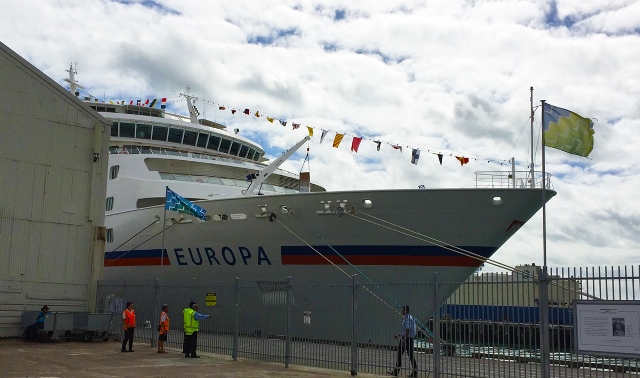 Leonardo DiCaprio would be very comfortable aboard Hapag Lloyd's ms Europa, at least his alter ego, The Great Gatsby! Our Cruise Master, Sandra Barclay-Graham was invited for lunch on-board ms Europa while she was berthed in Auckland over the weekend.  She has reported back with how impressed she was with the ship, the friendly crew and the wonderful décor.  She pointed out that for a 5 star plus cruise ship she was able to cater for children.
Europa is a German owned ship, launched in 1999 by Hapag Lloyd who have been in the shipping business for over 60 years.  Europa has been refurbished in the past 12 months with a very 'Art Deco' décor mainly in the lounges, one of which is called the "Gatsby", and the Veranda suite bathrooms. This all-inclusive ship has a number of restaurants to choose from, one with a 2 Michelin Star rating.  She has a European, luxury boutique style with wonderful attention to detail, and her international cruises have a multi mix of clients.  German is the main language spoken on-board, but when she is sailing internationally, like her recent world cruise, German and English is spoken.
For the past 13 years Europa has been listed with the highest distinction in the 5 stars plus category of the Berlitz Cruise Guide only to be joined this year by her new sister ship Europa 2. Where Europa is mainly aimed at the German market, Europa 2 is primarily aimed at the international market.  We book clients on French, Italian and Austrian cruises with the main language for each of these cruises is the language of the home country, but as they are aimed at the international market English is readily spoken. These cruises give a unique international flavour of people and cultures and NZers are enjoying these opportunities to travel with a more international focus on-board.
We look forward to seeing her sister ship Europa 2 when she visits New Zealand later in the year.
Contact us for more information about Europa and Europa 2 along with the cruises available.