A journey to Chile and Argentina via Patagonia
Kerry Graham, owner and travel advisor of The Private Travel Company recently returned from an incredible journey with World Journeys and Lan Airlines, experiencing the wonders of Patagonia, Chile and Argentina. Read about her journey and you'll want to experience it yourself.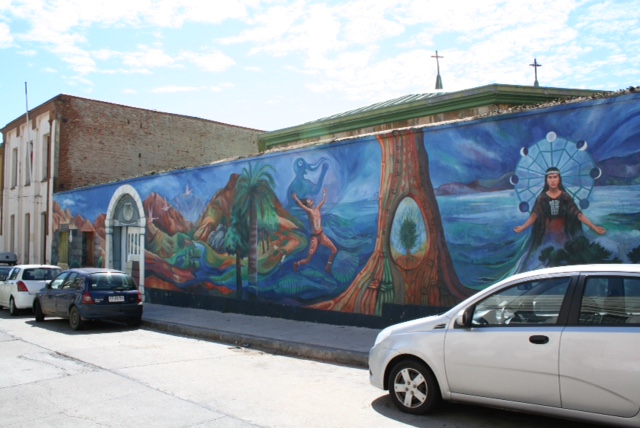 "A mid morning arrival into Santiago meant a city tour on the way to the hotel. We did not experience Santiago at its best, it was a national holiday and everything in the city centre was closed. A parade for the indigenous people of South America was followed by a group of hooligans. Our tour guide did a great job of steering us around the sights and main public buildings, avoiding road blocks and the developing mini riot. But the surrounding streets were empty of people with barricades across hotel entrances and shops closed. A back drop of mountains and some lovely buildings allowed glimpses of a beautiful city that would be nice to revisit on a more 'normal' day.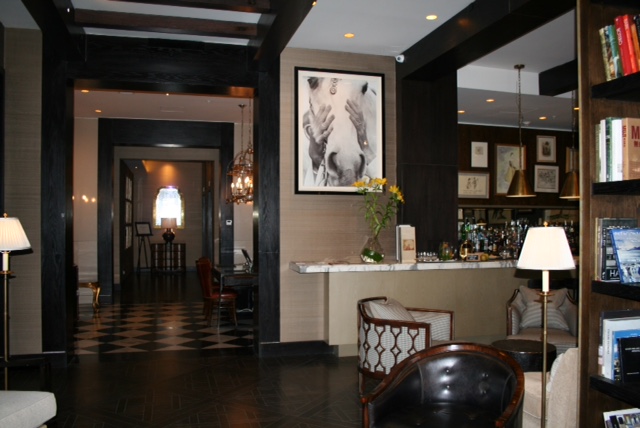 We stayed at the Singular Hotel, Lastarria Santiago. Wow! This small boutique hotel is designed to blend into its historic neighbourhood. The staff were great, very friendly and helpful. This is a new hotel planned with sustainability a major influence in the design and construction. The rooms are spacious and very comfortable. There is a lovely spa and a trendy rooftop bar – very popular with the locals and hotel guests, and great views to the Andes. It was too early in the season for swimming but there is a rooftop pool which would be a lovely place to relax after a day of sightseeing. I would definitely recommend this as a place to stay.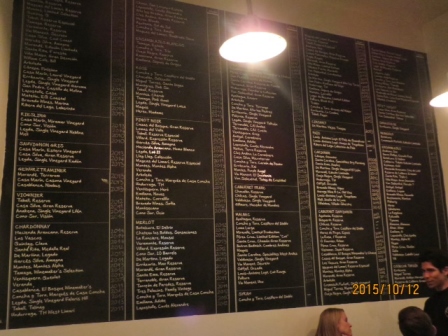 There are lots of great restaurants within walking distance. We visited the Boccanariz – loose translation Mouth and Nose. Fabulous food and the menu is categorised by wine match. They offer a huge selection of Chilean wines. The kindergarten stools and table was a bit weird but we were a large table at short notice. Lastarria is the epicentre of the Arts in Santiago with many Museums and Galleries within walking distance. Also a close walk to the Cerro San Cristobal, Santiago's largest green space and a walk or funicular to the top of the hill will reward you with great views over the city.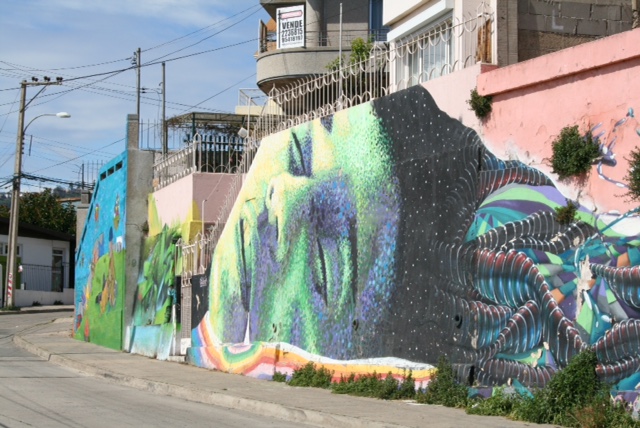 We did a full day excursion to Valparaiso, 70 miles away and the port of Santiago. This was well worth a day trip or you could include a tour of the city on the way to joining a cruise as many leave from this port, the second largest city in Chile. There are some lovely small hotels and an overnight stop here pre cruise would be a lot of fun.  It's a university/college town with a lot of young people, cafes, galleries, festivals, street artists and musicians. Historically the port has always been of significance for ships travelling the Straits of Magellan between the Atlantic and the Pacific. This declined with the opening of the Panama Canal but it's still a major port for Chile trade and cruise ships. In 2003 the historic quarter was declared a UNESCO world heritage site. The steep hills are covered in colourful homes and buildings – made even more so by wonderful street art that was started about 15 years ago as a deterrent to graffiti – the paintings range from small and simple to large scale true works of art. Makes the Auckland bland white house/grey roof cityscape seem very boring indeed!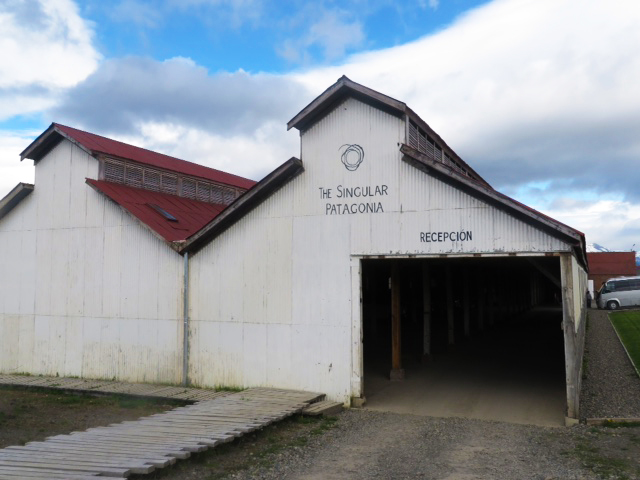 We flew from Santiago to Puerto Arenas, via Puerto Montt. On arrival we then had a 3 hour drive to Puerto Bories and The Singular, Patagonia. They are extending the local airport runway so that they can take direct flights from Santiago and also Argentina. This will make a huge difference as it is a full day of travelling to get here (but still worth the effort). We arrived about 9pm at night in the dark and it was snowing. You arrive on a gravel path and drive into a shed. Just as you wonder what this is all about you arrive at a glassed in reception area – the first of very many WOW moments.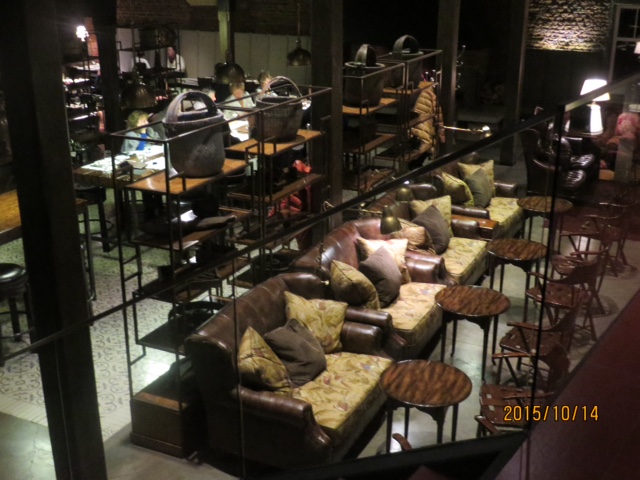 The hotel is owned by descendants of some of the areas original pioneers who have restored the place to preserve the history of the building and the area. Originally a cold storage/meat processing plant in the early 20thcentury. The drive through to reception was where the carcass was hung in preparation for processing. In its day the plant would process over 3000 sheep in a day. The hotel rooms are where the cold storage units were - if that is a bit 'creepy' you may be relieved to know that this part of the hotel is new, as the original building was destroyed by fire. Much of the original machinery was saved and the hotel incorporates museum areas within the main buildings. You walk between the reception and the restaurant and the new wing with the rooms via museum galleries. The wharf has been restored where the ships called to take the meat and products to other places in South America and as far away as Europe. The architects and designers have done an amazing job of preserving the old with very stylish new design. This hotel is rated as one of the best in South America. The rooms are great, reached by long very funky walkways, luxurious bathrooms, the service and food is outstanding. Our one complaint was that we did not stay long enough to truly enjoy the facilities, the rooms, spa, surrounding area and town of Porto Natales. We had 3 nights – I would suggest 5 to allow for 4 full days of activities.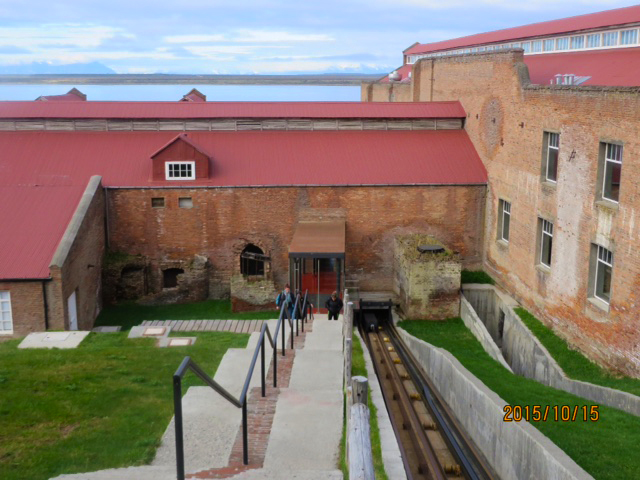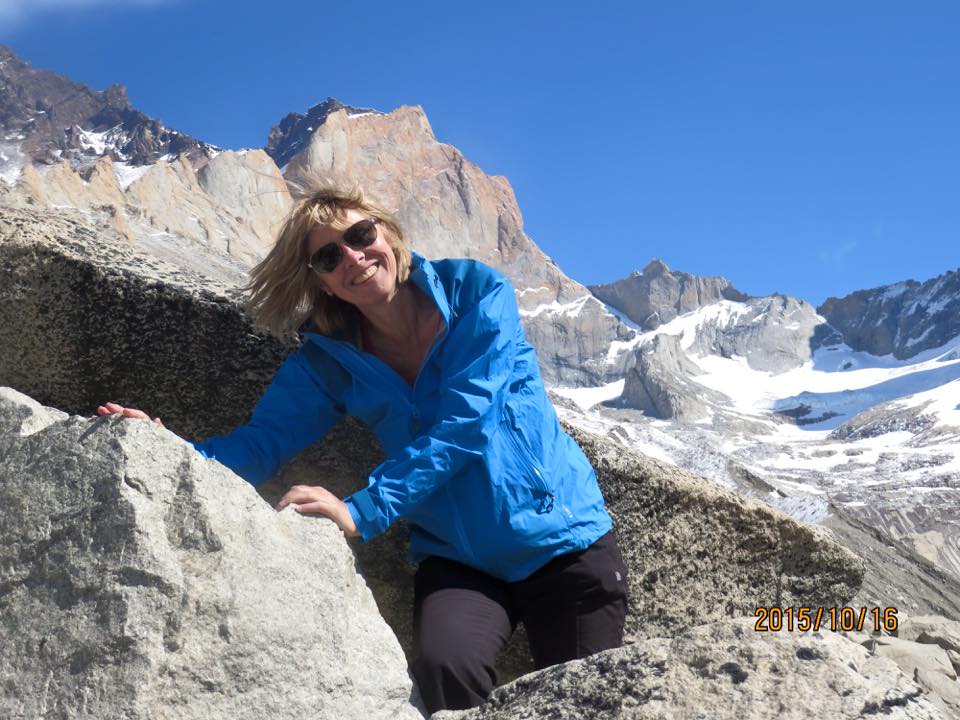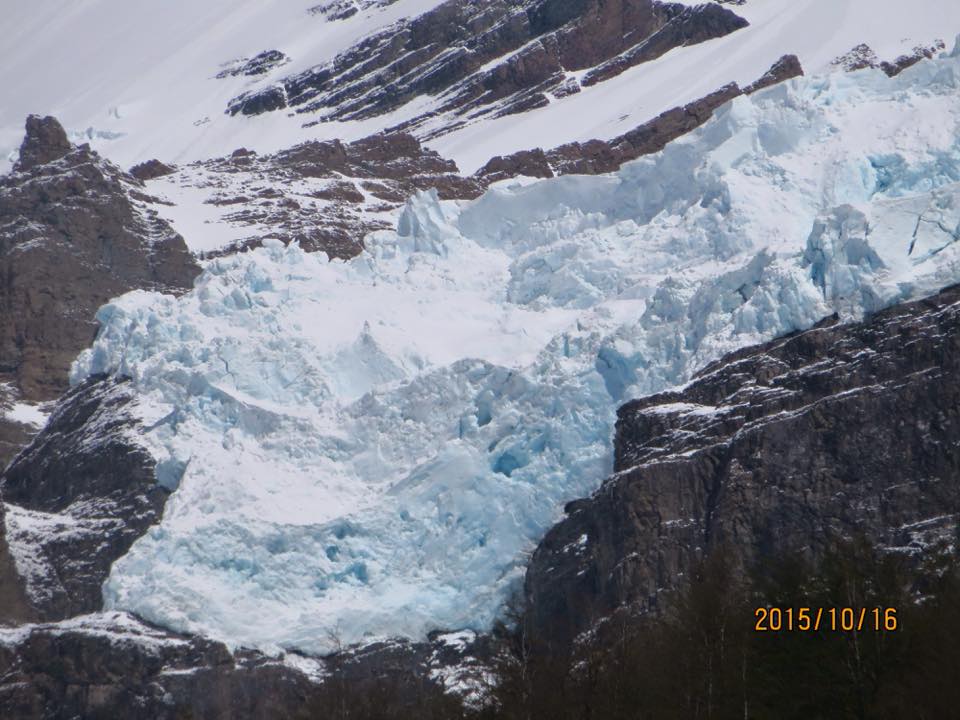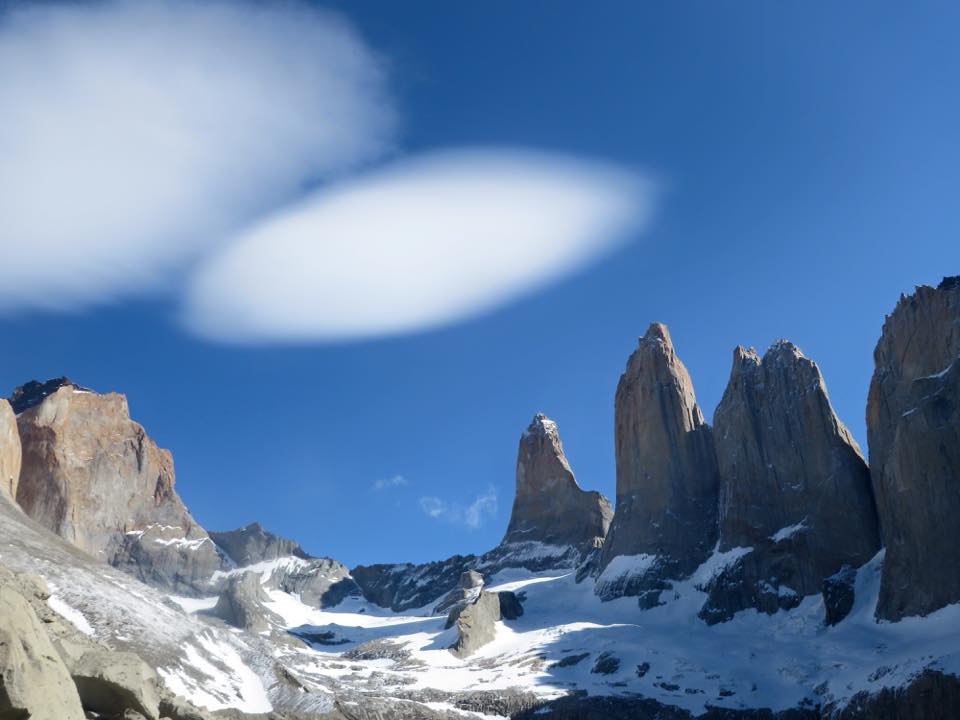 The hotel is an ideal base for exploring Patagonia and the Torres del Paine National Park. It's a 2 ½ hour drive to the gates of the National Park, one along the border of Chile and Argentina. The time does add up and leads to a very long day. It is possible to stay in the park itself, saving travelling time and depending on what you are wanting to do this may be an option. But, it's not The Singular. For instance one day we left at 8am, and did not arrive back at the hotel till just before 10pm. This was a full day incorporating a 7 hour tramp to the base of the Torres del Paine – the geographical feature the park is named after. This was a great walk and a 'must do'. Another full day excursion was to the glacier with various stops in the park to view icebergs, waterfalls, viewing points and the Winaka – a member of the Lama family. Some of our party went horse riding and there are numerous other walks and the opportunity to go fly fishing. Options cater for all levels of fitness and experience. Decent walking/tamping boots are a must. A 5 night, 4 days stay would allow the opportunity to sample the range of activities. It's also possible to go on much longer tramps in the national park staying at either private or DOC equivalent huts. The scenery is stunning. The Singular is also a great place to be sedentary – just sit and admire the views and enjoy the 5 star service and facilities.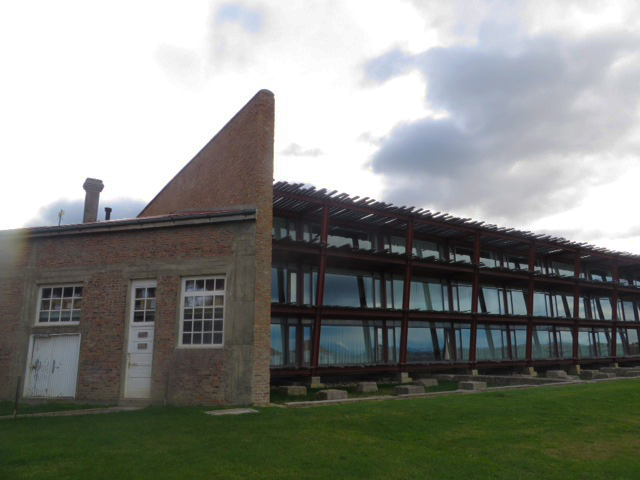 A midday drive to Purto Arenas allowed us to arrive in time to drop our bags at the port, find a place for lunch and to shop. Last minute purchases for warm clothing. A few days in the cooler climate had some realising they were not adequately equipped for the next part of our adventure.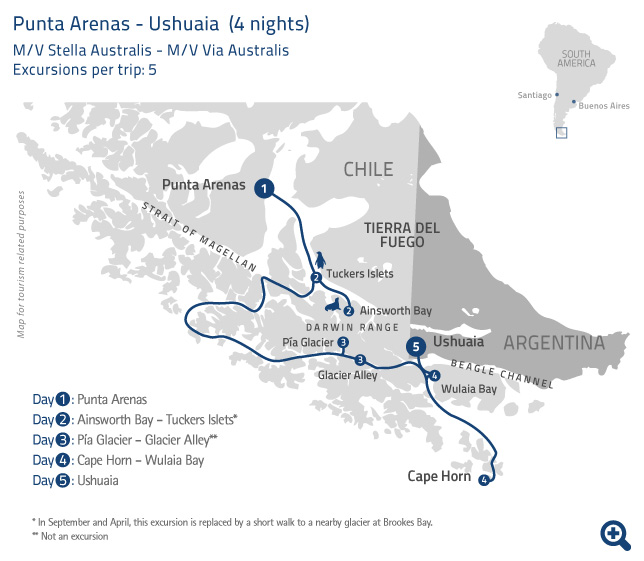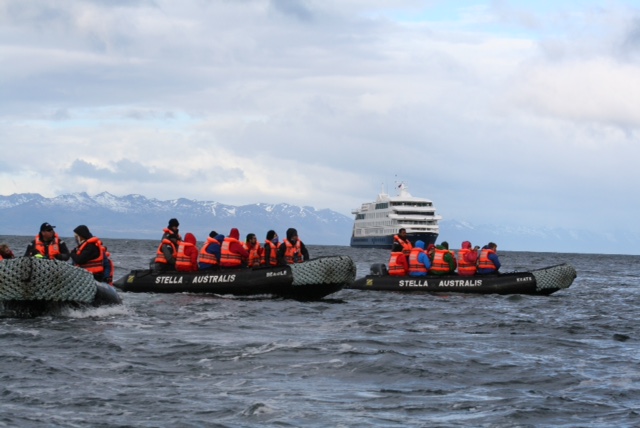 We boarded the MV Stella Australis to commence a 5 nights/4 day Fjords of Tierra del Fuego cruise. This small ship is very well equipped to carry just over 200 passengers. We were about half full as it's still early in the summer season. Even with a full passenger load there are lots of lounges and spaces to spread out. One lounge has all day tea/coffee/snacks and also caters for the early risers. There is also a small gym that was well used by some guests, but not me. The cabins were surprisingly spacious and very comfortable. Large windows (not portholes) on the lower decks, which increased in size to full floor to ceiling windows on the upper decks. Everything is included. The breakfasts were fine, buffet with the usual selection. Lunches and dinners were great. The food was excellent with a choice of entrees, mains and desserts. Different Chilean wine was offered at each meal to allow sampling of excellent red and white wines. A full bar service was also provided all day in the main lounge.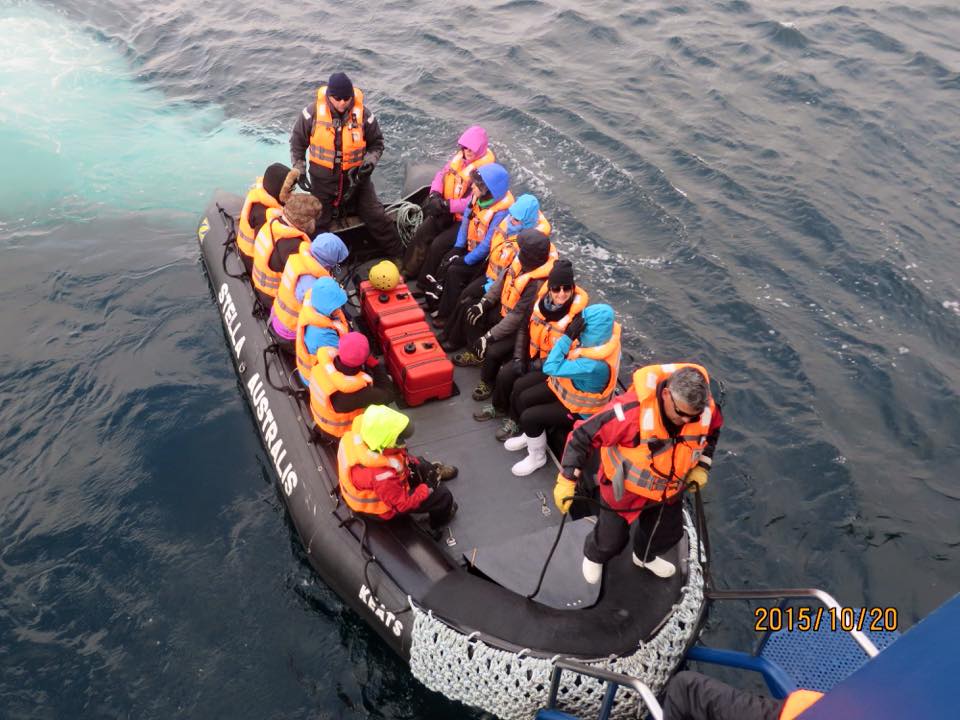 All cruising was done in the waterways of the Straits of Magallen and the Beagle Channel, not open sea so the waters were relatively calm and there was always something to see on one or both sides of the ship. While cruising there was a daily talk about either the area we were visiting, the geographical features, history of the area and early explorers – Magellan, Fitz Roy on the Beagle(hence the Beagle Channel) and Darwin (the Darwin range was named in honour of his 25th birthday as they sailed past). The indigenous people of the area were all quite diverse – one group was entirely naked – they used the fat of seals and mud to rub on themselves to keep warm, for some reason they did not think to use the skins for clothing! I had the benefit of polyprops and thermals and it was cold! They were hunter gathers and did not name their children until they were two – as odds were they were not going to last that long. Girls were immersed in the often freezing waters shortly after birth to get them used to the water temperatures (diving for food was a female job). No fun if you were born in the middle of winter! The speakers were also the guides ashore and they were very well qualified and passionate about their areas of interest.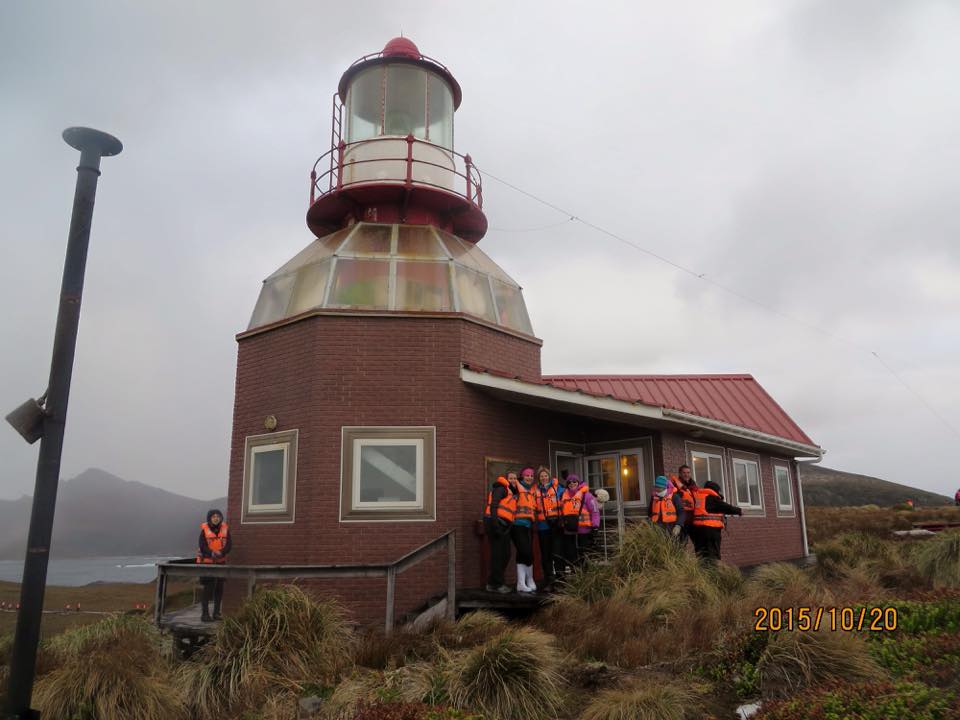 On arrival at our Cape Horn anchorage we did have to wait for about an hour, before the Captain decided it was settled enough to allow for landing. About 70 % of the time they can land – which means 30% of the time they can't! So we were among the lucky and with the two barmen, in their dry suits standing in chest high freezing water to steady the zodiacs we were privileged to step ashore at this very special place. The stories of the navigation and explorations in this area are enthralling and it's well worth some background reading before visiting.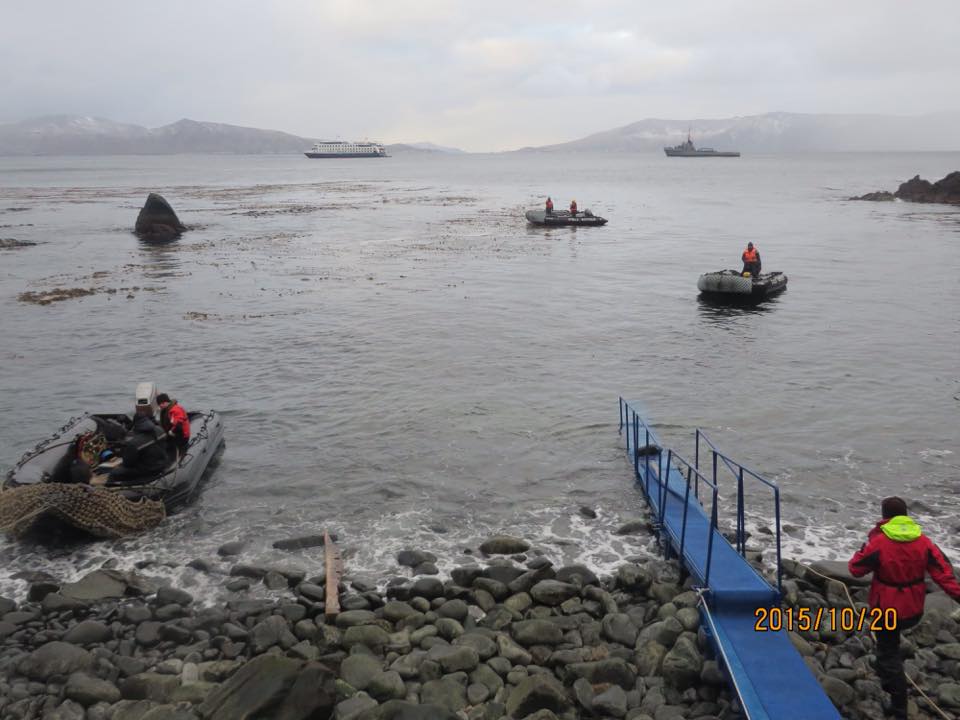 We saw some wildlife, but not as much as I had been expecting – again each voyage is different and there are no guarantees of what you will or won't see, but it was great and a wonderful trip of a lifetime experience.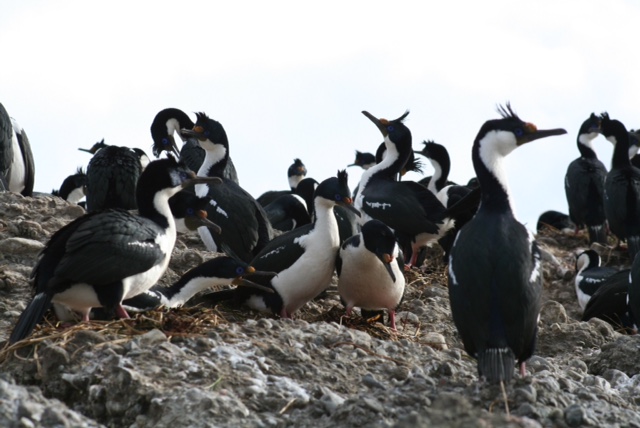 We disembarked in Ushuaia, Argentina – the world's most southern city and caught a flight 3 ½ hours to Buenos Aires........but that is another story.
My travel in Chile and Argentina was arranged by World Journeys and Lan Airways. World Journeys is New Zealand owned; by some of the most widely travelled and experienced people in the industry and we work closely with them when planning travel for our clients across the globe. Their representatives and the guides and people who looked after us were excellent –many having very longstanding relationships with the team here in New Zealand. The Private Travel Company knows that when we plan and book your travel to South America in conjunction with World Journeys you will have an itinerary that works on all levels and you will be very well looked after – as was I on this Chile and Argentina in Style Educational.
We flew LAN Airways, soon to be renamed LATAM. They operate a new Dreamliner between Auckland and Santiago. The Dreamliner is a lovely aircraft – very light and bright with larger windows. The overhead luggage storage is higher meaning you can stand up without banging your head and the cabin looks more spacious. New technology also allows more humidity and the cabin pressure is set at lower altitudes – all giving a more pleasant travel experience = less jetlag. I think it works!  A comfortable flight time of 11 1/2 hours to Santiago, our gateway to South America. LATAM will have by far the most extensive network  in South America and is a quality airline, a member of the One World Alliance."
Thank you to World Journeys and LAN Airlines.
Contact us for more information about how you can experience this amazing journey. Let us, along with our supplier, World Journeys design the perfect itinerary for your travel plans.